Thin-wall Container mould Production
Nowadays, most of us live in fast-paced life. When we order food or fruit to office, do you notice the package box? With low cost, sealing, convenience and variety of models, disposable food containers are widely used in the catering industry. Are you interested in how to manufacture the thin-wall container mold?
As a top disposable container mold manufacturer, Remo Mould make more than 150sets of plastic container molds annually. For the thin-wall container mold, we could make multi-cavity with self-lock mold structure, which is easier for mold daily maintenance and high production capacity. We have the experience for 2cavity, 4cavity and 6cavity 500ml&1000ml disposable container mold.
For steel material we suggest use H13 or other good steel material with Cu-Be for fast cooling. Using S136 stainless steel material, vacuum quenching and twice tooling process, the thin wall mold core and cavity hardness could reach to HRC45-52, it is suitable for long time fast running. We use high speed milling machine for the mold tooling, the dimension could control well within 0.02mm. With accuracy dimensions and reasonable structure, the mold core and cavity could be parallel verticality, which could make sure the whole line running smoothly.
For the thin-wall container molding machine, we use high-speed injection molding machine- with mold open, ejection and material charging three actions in parallel. The machine configures with accumulator, it could realize 300-400mm/s injection speed. With KeBa controller system, the machine could be controlled precision. With Remo Made thin wall container mold and high speed injection molding machines, the cycle time could get 3s for 4cavity 250ml ice cream container molding line.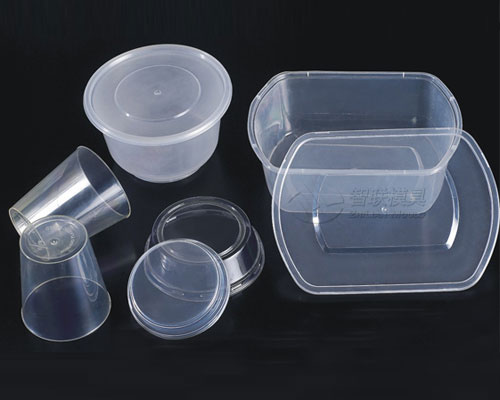 Remo is Chinese famous plastic injection molding machine manufacturer. If you have new plan for setup the high speed thin wall container production line, please do not hesitate to contact us, we could offer you a complete thin wall container turnkey solution combining with technology support. Waiting for your enquiry!